Our RotaryFlow Forged Wheels implements the newest and latest German manufacturing process that utilizes pressurized rollers to stretch the wheel to the desired specifications. By doing this we can achieve a lightweight wheel with pleasing aesthetics and aggressive fitments for European, Asian, and American made vehicles. Using this technology we create a wheel that is stronger and lighter, very similar to a full forged wheel.
ROTARYFLOW FORGING PROCESS
The Face of the RotaryFlow Forged wheel is produced using our Tilt Casting Technology. In tilt casting, the metal is poured into a holding cup while the mold is in its horizontal position. With a preset cycle time, the casting machine raises the wheel to a vertical position, allowing the metal to enter the cavity at a slow and continuous rate. We utilize the tilt-pour method because of it's feed/gate flexibility which allows for a wide variety of casting shapes. This method also ensures the wheels have the least amount of porosity as possible.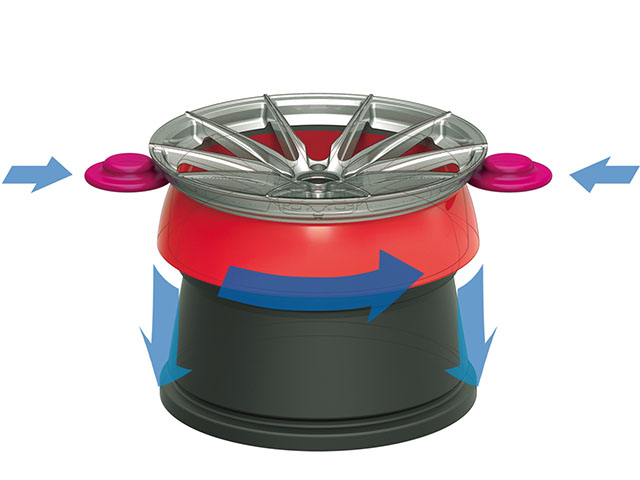 Tilt cast face is mounted on the drum, ready to be formed. Heat end coating is applied to the spin-forming drums.
Pressure is applied to the rim barrel and specially designated hydraulic rollers are used to stretch the wheel by applying pressure to the rim barrel.
The wheels properties are compressed and stretched to achieve the desired width. Vertini's Lightweight and strong wheel is now formed.